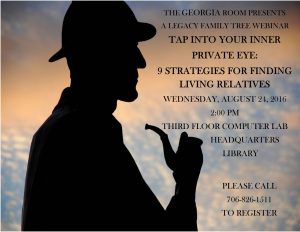 Wednesday, August 24 @ 2:00 pm
Legacy Family Tree Webinar
Tap Into Your Inner Private Eye: 9 Strategies for Finding Living Relatives
3rd Floor Computer Lab
Learn the techniques that Private Investigators use to track down missing people. These strategies will help you find those elusive living relatives who just may hold the key to your brick wall or possess that treasured photo you've been looking for. This Legacy Family Tree Webinar is presented by Ms. Lisa Louise Cooke, the owner of Genealogy Gems, a genealogy and family history multi-media company. Ms. Cooke is producer and host of the Genealogy Gems Podcast, the popular online genealogy audio show as well as the Family History: Genealogy Made Easy podcast. Space is limited. Please call the Georgia Room to register, 706-826-1511.