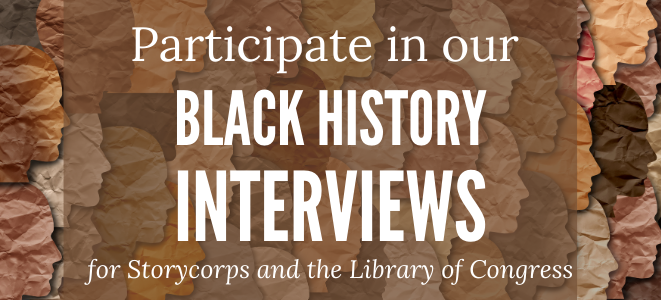 February is Black History Month and the Augusta-Richmond County Public Library System wants to know more about African-Americans in our community. We are looking for people who would be willing to record an interview with a friend or family member about their everyday lives.

These interviews will be made using the StoryCorps app or StoryCorps Connect website and will be preserved by the Library of Congress. Interviews will be done virtually through StoryCorps Connect or within the household using the Storycorps app. Training will be provided.
There will be a virtual Zoom meeting on Monday, February 1st to teach participants how to prepare for their Black History Month StoryCorp interview by discussing the process, and the technology, as well as interview questions. Please register for the Zoom meeting at bit.li/storyinterviewingmtg
Please feel free to forward this information along to anyone who you believe might be interested. Interested individuals can sign up directly at bit.ly/storyblackhistory to participate.

If you have any questions or concerns, please contact Erin Prentiss, Outreach Services Manager, at prentisse@arcpls.org or 706-821-2612.