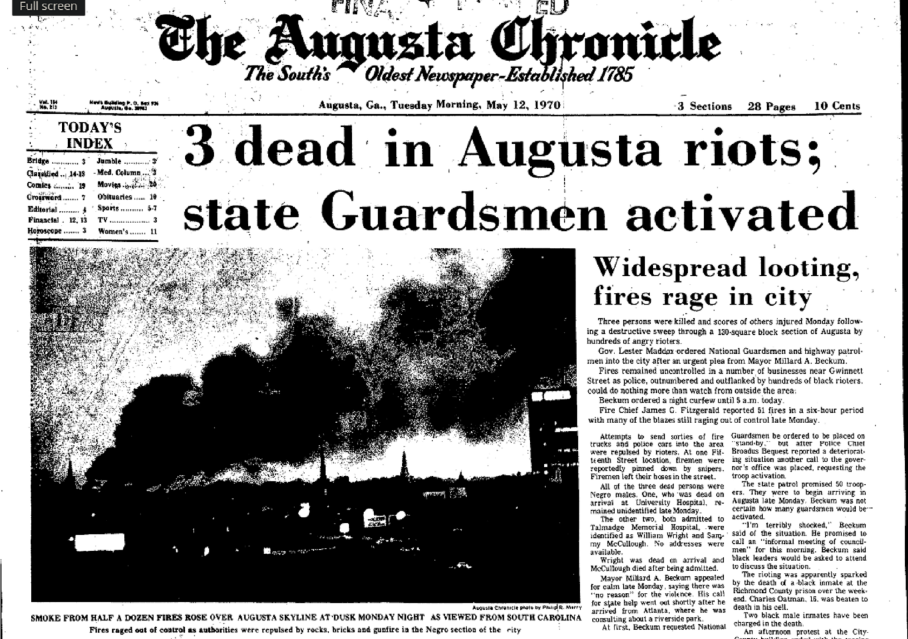 Fifty years ago in mid-May of 1970, Augusta suffered one of the most violent chapters in its history. The brutal murder of a sixteen year old Black teenager named Charles Oatman inside a city jail, ignited a powder keg of long-standing racial tension which had been building in the city for generations, resulting in several days of violent and incendiary rioting. When the fires died down, and the city took count, an estimated $1 million in property damage had occurred, and sixty people were left wounded by police gunfire.

Six unarmed men were killed by police, all shot in the back. The names of the men were: Charlie Mack Murphy, William Wright, Jr., Sammy McCullough, John Stokes, John Bennett, and Mack Wilson.

In observance of this traumatic event in Augusta's history, the 1970 Augusta Riot Committee has organized events beginning on Saturday, May 9th all over the city in an attempt to bring awareness and ultimately healing to a community that continues to live in the aftermath of this tragedy.

In light of the COVID-19 pandemic, most of the events have been made virtual, and can be viewed from home. Please visit https://www.1970augustariot.com/events to learn more about the project and how to participate.

In 2012, the Augusta-Richmond County Public Library partnered with the Augusta Chinese American Benevolent Association of Augusta, Georgia on an oral history project to interview several elders in the Augusta Chinese-American community about their experiences immigrating and living in Augusta. Several of those interviewed owned businesses that were destroyed during the 1970 Augusta Riot, and offer a unique perspective on how their lives and the larger Augusta Chinese-American community were affected. If you'd like to listen these interviews, visit the Digital Library of Georgia website: https://dlg.usg.edu/collection/gaec_caoh