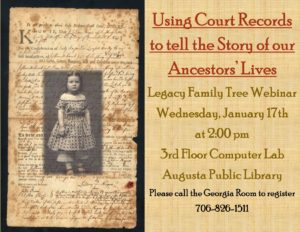 Wednesday, January 17th @ 2:00 p.m.
Using Court Records to tell the Story of our Ancestors' Lives
A Legacy Family Tree Webinar – 3rd Floor Computer Lab
Early court records give us evidence to prove who our ancestors were. But they're even more wonderful in helping us understand how our ancestors lived. Join us in the 3rd floor computer lab as legal genealogist Judy G. Russell teaches us how to use court records to add richness and depth to our family's stories. Space is limited, so please call the Georgia Heritage Room at 706-826-1511 to register.