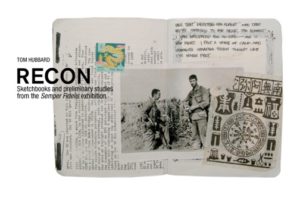 Recon is an exhibition of sketchbooks, preliminary studies and research which combined 5 weeks of travel in Vietnam led to the creation of Semper Fidelis: How I Met my Father. The sketchbooks were part of my process of collecting, cataloguing and trying to understand the events of the war in Vietnam, who my father was and my own thoughts and feelings. Unedited and unfiltered the sketchbooks became touchstones that could transport me back to the village where my father was killed or a conversation with veteran allowing me to bring that emotion forward into the finished work. Semper Fidelis is not a political statement about the war, but a quest for understanding and a statement of personal loss and how the effects of war resonate through multiple generations.
Semper Fidelis is a mixed-media fine art exhibition which documents my quest to learn about my father, a US Marine who was killed in Vietnam in 1966. The exhibition uses USMC after action reports, letters written by my father in the field and my own journal entries to tell this story. Archival photographs of my father are combined with my own images from Indiana, Washington DC and Vietnam.
The centerpiece of the exhibition is a series of hand-built raku and electric fired ceramic vessels which combine narrative and photographic elements and chronologically represent my quest come to know my father. Made from roughly hewn terra-cotta slabs with text stamped into the surface, these pieces feel as if they have emerged from the battlefields of Vietnam and represent the physical loss of my father while providing the context for viewing this installation.
Photographic diptychs complement the ceramic vessels and draw parallels between the American and Vietnamese traditions of honoring the dead. These pieces, while less emotionally charged, provide a broader context for viewing. These diptychs combine black & white photographs with tin panels and silver leaf on encaustic backgrounds. These pieces are presented in custom made tin wrapped frames made to my specifications by artisans in Vietnam.
Additional photographic constructions combine my photographs with military insignias etched into the glass, USMC field maps and machine gun shell casings.This exhibition is not a political statement about the war Vietnam. It is a statement of personal loss, of coming to know my father and how the effects of war resonate through not just one but several generations. This body of work does not merely represent my relationship with my father, it is my relationship with him
– By Tom Hubbard