Please join the Augusta Public Library as we welcome renowned anthropologist Adam King on Saturday, February 25th at 2:00 PM in the library auditorium for a talk on Mississippian Culture and the Southeastern Ceremonial Complex. Dr. King's presentation will kick off the Michael C. Carlos Museum Traveling Exhibit from Atlanta, which runs from February 25th until March 14th.
"Adam King is a research associate professor in the South Carolina Institute of Archaeology and Anthropology and special projects archaeologist for the Savannah River Archaeological Research Program at the University of South Carolina. King has conducted research in the Southeast since 1987 and specializes in the Mississippian period and the political economies of chiefdoms. He is the author of Etowah: The Political History of  a Chiefdom Capitol."
Archaeology in South Carolina: Exploring the Hidden Heritage of the Palmetto State.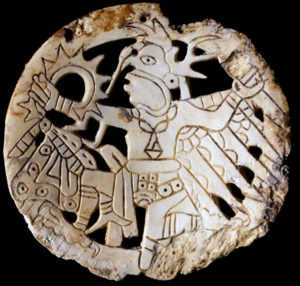 A shell gorget (pendant) found at Etowah, Georgia,  date to the 13th century.